The Journey
– from a paper envelope to your school, living room or anywhere else
Co-written by Alex's loving wife Hanna
The journey of the-one.world started in 2015, when Alex bought a poster which displayed a summary of Earth's history. When it was hanging on his wall he was thankful that someone created it and was a little disappointed by the content selection and presentation. He thought: "So … how would I have done it differently and … why not summarize Everything in the Universe?"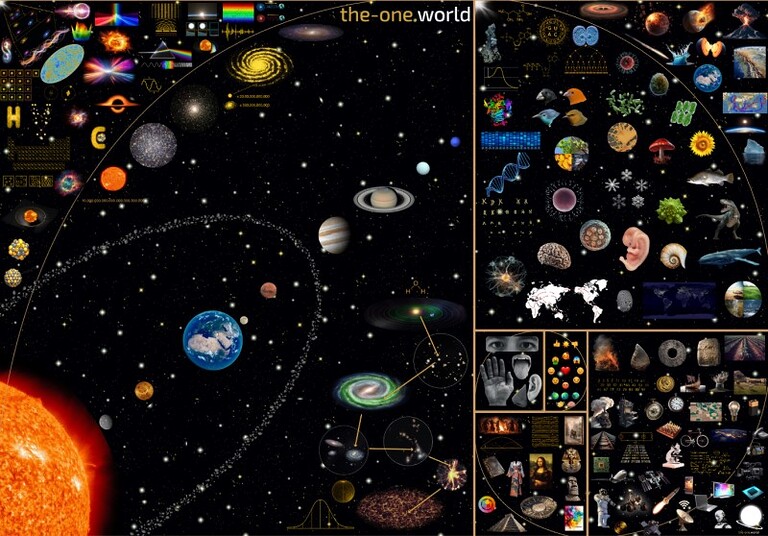 Alex biggest passion is the Universe, his favourite colour is yellow, he is loving, open-minded and curious and he loves exploring the unknown. Values are important to him, they shape his life and his relationships and most important to him are honesty, respect and loyalty. Alex strongly believes that almost everyone thinks the universe is awesome and many however lack access to easily understandable knowledge plus universal context to further explore their fascination.
Alex was dreaming of one universal educational poster, for Everyone, summarizing Everything in the Universe. The goal would be to spread knowledge and fascination about the universe in a simple and accessible way, regardless of language or age.
Back to the starting idea in 2015:
How do you summarize
Everything in the Universe
?
Alex consumed countless videos, books and exhibitions about everything you can think of connected to the universe over years, and studied Science, so he knew he had profound overview and understanding about many of the relevant topics to be displayed.
So why not just do it?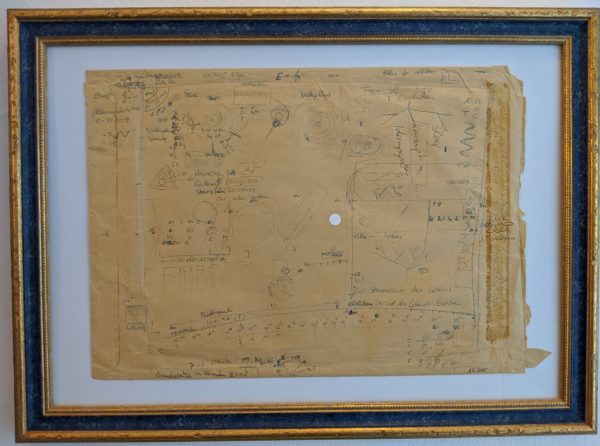 Alex realised that in human history only few generations were able to access that huge amount of knowledge about the universe like we are now. Still he had not seen a universal, global medium which tried to summarise EVERYTHING on an easily accessible, global medium – especially using only images so that everyone could understand, no matter how old you are, no matter what language you speak: From the Beginning of the Universe to the Creation of Earth, from the Beginning of Life to all wonders of Nature, to you and me, with all our emotions, instincts, flaws. (if anyone knows one, please share it with us!).*
In one creative night Alex drafted the first sketch. From then on a constant review process started with the question "What is important enough to be represented on the poster and what is not" and "how to visualize and arrange everything?". A long list was created with the constant question: "How to abstract our global history with all the different cultures?" (You can check the full list of visuals here, if there is something missing, please contact us 🙂 )
So the list grew over years, was reviewed by scientists from different fields of knowledge and was structured into six "Building Blocks", which are arranged on the poster in the proportions of the beautiful golden ratio.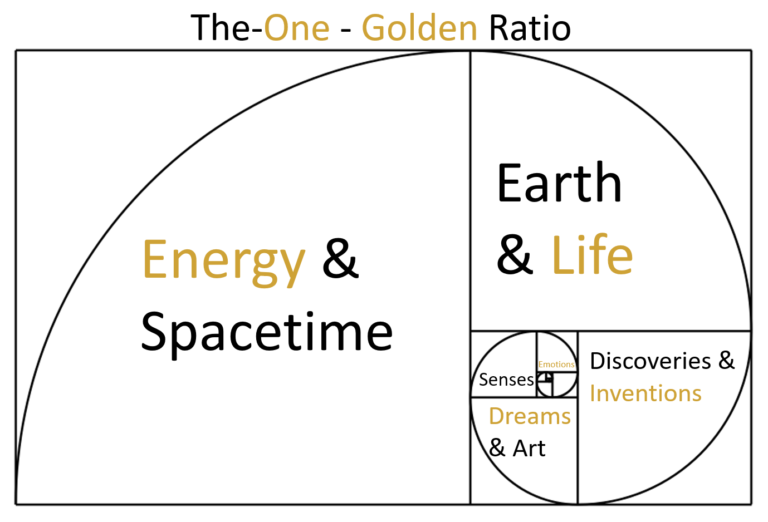 Life is precious, Time is a gift
In 2020 a blow of fate accelerated the whole process when Alex's beloved best friend Speedy died in a tragic accident. It struck us with brutal force that life is fragile, life is precious and time is a gift. The lifetime we have to create something meaningful is very limited, and it can end sooner then we wish. This intense phase led to many night shifts and the first analogue version of the poster which was a collage of printed screenshots on a black pin board in our living room.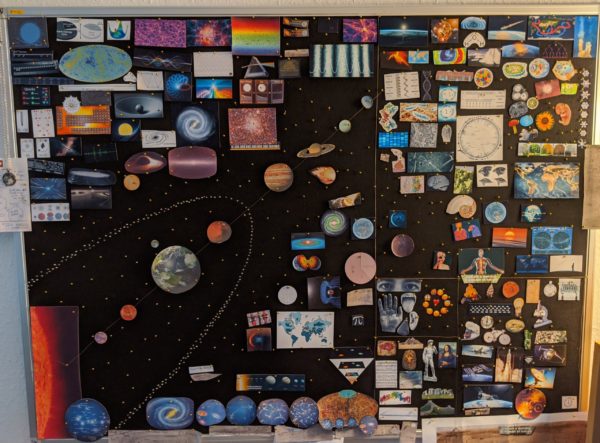 Soon after, the first digital version took shape from photographs of the pin board and the first glossary articles for beginner, advanced and expert level learners were published. The decisive step towards the first final version was the work with an AI artist who designed non-copyright protected images for every visual on the list.
The non-profit idea: Financing and production
The Vision of the-one.world is to distribute the understanding that We are All One ~ One Earth & One Nature flying together through space and time. Let's protect and enjoy life, together. The-One and the-one.world has always been thought as global and non-profit with the goal to share knowledge and fascination about the universe with as many people as possible.
And this is how it works:
You can buy a poster for you and your loved ones here.
To donate posters to institutions, you can make a one-time or annual donation here.
Whether you donate yourself or not, you can always propose institutions (for example schools, kindergartens, elderly homes etc.) here.
We get in touch and ask if these institutions are interested
From your donations we print posters via a print-on-demand service and ship them directly to the institutions
In addition we support schools with teaching material
You can also purchase merchandise articles to help us spread the word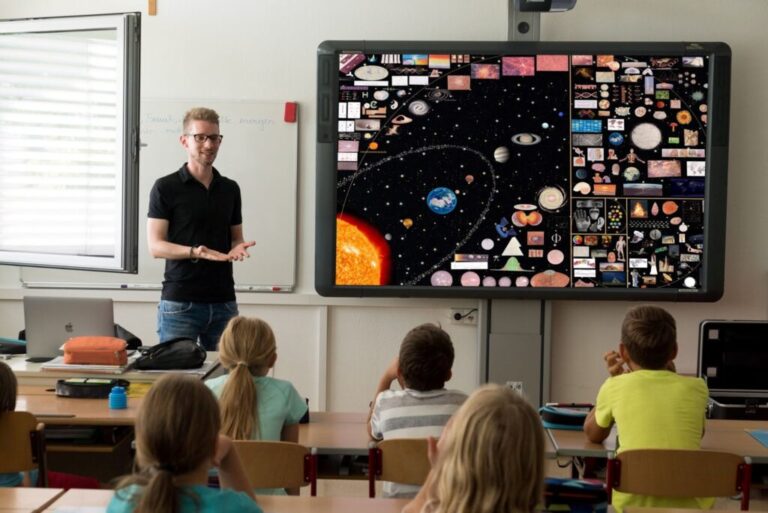 Understanding the 1×1 of the Universe – worldwide!
Everything we do, we do with love and care. ❤
We want to build a global edutainment platform for lifelong learning, step by step. We will go this journey with many people, with well-connected partners, with enthusiastic supporters and with generous donors – worldwide. With those who share a common global vision and want to contribute – with everyone, who wants to join this wonderful journey.
We dream of a global community that shares the fascination and wants to develop the whole idea further to create Vision, encourage Dialogue, make Meaning and change the perception of the World
Many hands make light work, as Alex's granny used to say. So, if you want to join, there are several ways to contribute personally, for example:
Content production for Social Media
Community Management
Translate content to different languages
Develop teaching material for different levels of learners
Development of the Earth App
Public relations and fund raising
Just get in contact with us!
We are very excited for the future and welcome you to be part of this wonderful Journey.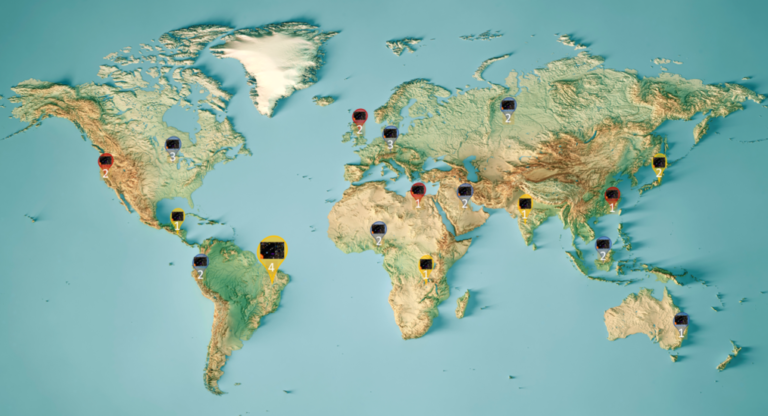 Further transparency sidenotes:
Choosen vehicles to succeed for generations: An operative Company and a non-profit foundation
The operative unit for this whole journey is the "the-one.world GmbH" (Registered as HRB No. 104953 in Darmstadt, Germany) whose registered business purpose is "the development and distribution of products, content, services and platforms in the field of knowledge and education about the universe." The company was founded in order to be operationally active, as it can advance the mission in a more flexible and agile way than the foundation. The company will be transferred 100% to the non-profit the-one.world foundation (establishment in preparation) as soon as the economic stability is recognised by the tax office and the regional council. Once the non-profit foundation has been established, donation receipts can be issued.
The following foundation purpose (see below) was submitted to the responsible foundation authority for examination. Again, if anyone has any comments or ideas for expansion, please write to us! The foundation will be established in 2024.
"The the-one.world Foundation will be established to be a foundation under civil law with legal capacity and serve exclusively and directly charitable purposes. The purposes of the Foundation are to a) promote the distribution of knowledge and education about the universe, and b) promote the distribution of scientific fascination in order to connect all people and the Earth in the process.
The Foundation's purposes will be achieved in particular through the development and global distribution of The-One. The-One, a poster that sums up everything in the universe, using only images so that everyone can understand it, no matter what language you speak or how old you are. The poster can be interacted with analogue, digital, online and offline."
*For sure, there are great masterpieces out there, naming just a few:
"The Scale of the Universe" a Scale-Comparison-App by the Huang Twins, "A Short History of Nearly Everything" a book by Bill Bryson, "history of the entire world, i guess" a video by Bill Wurtz and the OER Project, an online-course started by David Christian, to. Many thanks to all adventures and creators who inspire the world.